Digital marketing benefits businesses of most sizes by giving access to the mass market at an affordable price. Unlike TV or print advertising, it allows truly personalized marketing. Digital marketing also comes with a number of challenges you should be aware of. The main advantage of digital marketing is that a targeted audience can be reached in a cost-effective and measurable way. Other digital marketing advantages include increasing brand loyalty and driving online sales.
The benefits of digital marketing include:
Global reach – a website allows you to find new markets and trade globally for only a small investment.
Lower cost – a properly planned and well-targeted digital marketing campaign can reach the right customers at a much lower cost than traditional marketing methods.
Trackable, measurable results – measuring your online marketing with web analytics and other online metric tools makes it easier to establish how effective your campaign has been. You can obtain detailed information about how customers use your website or respond to your advertising.
Personalisation – if your customer database is linked to your website, then whenever someone visits the site, you can greet them with targeted offers. The more they buy from you, the more you can refine your customer profile and market effectively to them.
Openness – by getting involved with social media and managing it carefully, you can build customer loyalty and create a reputation for being easy to engage with.
Social currency – digital marketing lets you create engaging campaigns using content marketing tactics. This content (images, videos, articles) can gain social currency – being passed from user to user and becoming viral.
Improved conversion rates – if you have a website, then your customers are only ever a few clicks away from making a purchase. Unlike other media which require people to get up and make a phone call, or go to a shop, digital marketing can be seamless and immediate.
Together, all of these aspects of digital marketing have the potential to add up to more sales.
Related: 4 Top Reasons Why You Need a Website for Your Tour & Travel Business in Cambodia
Here is the complete digital marketing strategy that you can you to build you online digital empire for your company which included Facebook Marketing, Instagram Marketing, Linkedin Marketing, Website/landing page marketing, Ad placement Marketing:
Facebook Marketing in Cambodia
Facebook is considered the number one social media platform in Cambodia. In 2019, there were 7 810 000 Facebook customers in Cambodia in April 2019, which made up 46.7% of its whole population. The majority of them were males – 59.2%. People aged 25 to 34 were the biggest individual group (3 600 000). The greatest distinction between females and also males happens within people aged 25 to 34, where guys lead by 800 000. Most businesses cannot run their business without Facebook as the above Facebook user in Cambodia is clearly shown them. Here are some of the Facebook Marketing strategies that you can use for your business if you are running a business in Cambodia.
Building a Facebook community: Facebook created a Facebook group for its' users to have private conversations or support where they can support and help each other well in a private space. Facebook believes that besides having an account is not enough for people to connect, support, share and help each other amongst their friends, family members, and others. Now many entrepreneurs and businesses have been using the Facebook group as a support community to provoke discussions, reconnect, inspire and sell. Having an interactive and engaging Facebook group is a plus to drive traffic to your business. If you are offering such as subscription, training, or event ongoing services to your customers, better to have a Facebook private group.
Creating Promotion Based on Social trends: Some marketers have been using the social viral contents to promote their products and services through social trends such as supporting the community for climate change, sponsor remote village kids to attend school, clean the city, contributing their own packet to the hospital and so on. Some businesses have been taking this opportunity to build their social media presence by engaging with those social events in an acceptable way. No matter you are a marketer or a businessman, taking advantage of these events are primarily important to bring more customers to your business.
Paid advertising: Facebook loves money. Every business loves money that why every time they plan the marketing strategy, they need to include the revenue scheme expectation plan in it. The Facebook algorithm prioritizes contents posts by users to show up on their friends' feed based on their interests and engagements. If you want to show most often your promotions on your customers' feed, you need to pay to Facebook so that Facebook bots can promote your products or services, if not, your organic posts or promotion will show only 10% of your total fans that's why Facebook paid advertising is a must in this era.
SEO optimization: Having a Facebook brand page is not enough. You have to optimize it to make searchable by your customers. To do this, you have to put the right keywords that your customers are searching for. If your company providing traveling and tourism services then "Travel Agency in Cambodia" keywords should be your best keywords to include in your Facebook page or and some of your posts, for example.
Facebook Livestream: Facebook Livestream is the top trend feature most of the sellers are using right now in Cambodia. Closing store, phone shop, computer shop, shoe shop, travel agency, .. etc have been taking advantage of using Facebook live to sell their products. Facebook loves to promote instance contents live Facebook live. When you live, Facebook will notify the rest of your fans to know that you are living, let's watch. This way your fans can follow your current activities. At least live one a month is great to inform your fans about your business.
Social Media influencer: Facebook social media influencer is now more important than celebrities in somehow. They can mobilize the mass audience to engage, buy and use your products or services following their sample in the video clips. At least engage social media influencer one a month to promote your brand or services is worth as you can use that opportunity to caption testimonial and contents for your social media presence again and again.
Facebook Event: Most businesses considered the Facebook event as a normal event in the offline world which is useless. However, if you have close attention to this feature, you can create a Facebook event to invite people to engage and share your event quickly and effortlessly. To make your online present visual, you have to spread your content everywhere as much as possible so that your customers can find you.
Schedule posts: Posting a lot of content every day is good, but if you post the content at the wrong time, you are likely to throw the rice in the ocean which is not to be seen by big fishes. Know your audience profile, their time in using social media are crucial so that you can prioritize and schedule your posts just the time that they are hanging out on social media.
Related: Facebook Offer Ads: How to Generate Sales for Your Business
YouTube Marketing in Cambodia
The objective of YouTube advertising must be to send out customers to various other social networks, or to your website (or both). Make it very easy by including web links to your network. They'll show up in the bottom right-hand edge of your network art, in an area that's simple to see and also extremely clickable. Here is some YouTube Marketing you can use:
Paid advertising: Google loves YouTube. Google acquired YouTube in 2006. Since then Google had added many more features onto Facebook such as save video offline so that users can watch it without connecting to the internet, living streaming on YouTube, and YouTube advertising. YouTube is currently known to the world as a Video and Digital TV platform to-go for people all over the world. In Cambodia, YouTube has been used both businessmen and normal users for entertainment, education, and promotions. YouTube can bring you more and more clients if you know how to utilize paid advert. At YouTube, you can run many ad types such as video ads, display ads, and banner ads. There's no doubt, most brands have been using YouTube Adverting to drive traffic to their websites and promote sales.
YouTube Channel SEO optimization: Most businessmen in Cambodia considered that SEO (Search Engine Optimization) is not important for their business. They mostly focus on spending money on Facebook advertising rather than YouTube as they thought that all of the customers are on Facebook why they need to use YouTube. We cannot overlook YouTube. Every single traffic that we can drive to a business is great as long as we do it right as costless. To optimize YouTube channels for SEO – meaning that to make it searchable by your customers, you have to put your products or services keywords onto every video content that you posted onto YouTube and also share it onto other social media channels you own. This gives Google a signal your videos or channel is values and great engagement which it's likely to promote your channels or video for free.
YouTube Livestream: YouTube live stream is good for Search Engine Optimization (SEO). Google likes to promote its Livestream features so that become popular among users around the world. Running YouTube Livestream at least once a week will boost your YouTube channel to rank higher on Google search. This way you can make your products or services visible to your customers.
YouTubers: In Cambodia, there are many YouTubers who make a living by posting their creative and funny content onto YouTube. They can create a video to promote your products and services in their YouTube channels which in turn boosting your video with views comments and share faster, resulting to make your video become popular and value by Google Search Engine eyes.
Related: YouTube Ads | Online Advertising | Google Ads in Cambodia
Instagram Marketing in Cambodia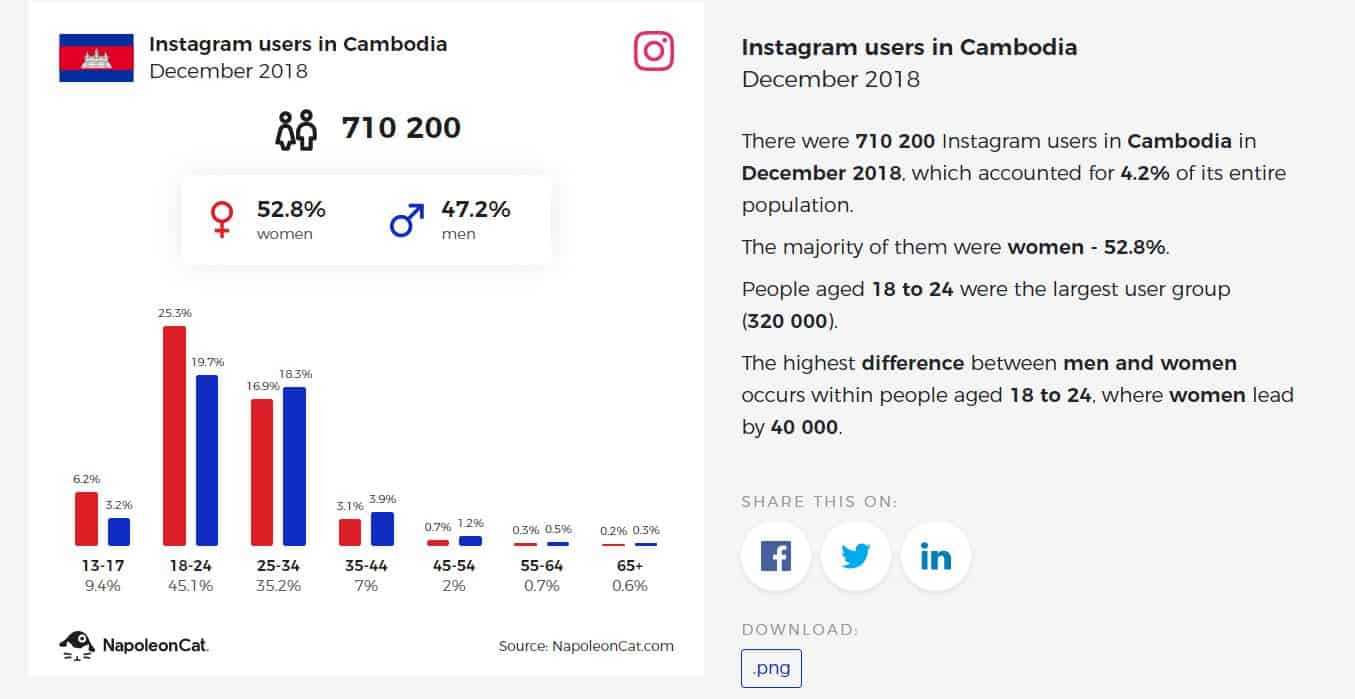 Instagram Users in Cambodia in 2018
Instagram users in Cambodia in December 2018. There were 710 200 Instagram users in Cambodia in December 2018, which accounted for 4.2% of its entire population. The majority of them were women – 52.8%. People aged 18 to 24 were the largest user group (320 000). The highest difference between men and women occurs within people aged 18 to 24, where women lead by 40 000. Brands in Cambodian have seen and started to invest money on Instagram to attract their customers to their business, here are some ideas of Instagram Marketing in Cambodia you may use:
Short video clip: Fun video clips tend to engage well with customers. Customers go to Instagram to check their friend's beautiful photos and fun stuff. Therefore, creating and crafting short funny video clips for Instagram is a must to make your Instagram page shows up most often on your friend feed.
Photos: People live beautiful and funny photos. Posting frequently beautiful and funny photos onto your Instagram page is a must to make it visible.
Instagram Paid Adverting: Facebook loves Instagram. Facebook bought Instagram at aiming to integrate with Facebook so that Facebook can build an empire of the social media network. You can advertise your products or services right away from the Facebook advertising dashboard without having to go to an Instagram account. However, you have to connect it to a Facebook account before you can advertise on Instagram.
Hashtag: A hashtag– presented by the octothorpe sign (#)– is a type of metadata tag used on social networks such as Twitter and various other microblogging services. It lets customers apply dynamic, user-generated tagging that assists other customers conveniently find messages with a specific motif or material. Creating a hashtag for your content when a post on social media page so that your page is searchable by your customers on the keywords that you use. For instance, if you post is about holiday promotions you should better at a hashtag like "FunHolidays" or "TravelWithFun".
Instagram Influencer: Not many Instagram influencers yet in Cambodia. However, there are a few popular Instagram Influencers you a reach out to engage them with your products or services. However, reaching out to them as a stranger will not the right way to do so. You may need an intermediate person to get in touch with them so that the price of hiring them is cheap.
Related: 11 Best Digital Marketing Channels You Can Use to Reach Out to Customers in Cambodia
LinkedIn Marketing in Cambodia
LinkedIn is a professional network where is originated created for B2B purposes. However, when LinkedIn is growing before a giant business social media network it has changed the way it works. LinkedIn was acquired by Microsoft for $26.2 billion and the largest acquisition made by Microsoft to date as Microsoft thought the potential of this network to compete with Facebook and other social networks. LinkedIn in Cambodian not really a huge social network among Cambodians, but those who use LinkedIn are professionals who have a high paid job and own a business. That's would be a great and target channel that you want to touch or integrate with your marketing plan if you are running a business in Cambodia which your target customers or business partners are professionals.
Building a Community: Professionals create LinkedIn Group or Community in various topics aiming to generate discussion in a private space, mostly like the Facebook Group. However, LinkedIn is not like Facebook where users can post everything like hobbies, funny stuff and feel. Users can post but the professionals will jump in to comment you that if you do that you are the Facebook users while LinkedIn is not creating for that space. Then your face will be lost and you don't want to post that again. At the LinkedIn Community as well, professionals post mostly about educational, employment opportunities, business networks, and promotion content. If you tend to engage and build a network with professionals who have high education, money, and business, then LinkedIn should be of the social channels that you want to consider using it to build trust.
LinkedIn Business page optimizations: Having a page in LinkedIn – A Business network is considered a better idea to building trust and search engine friendly. Even you don't have time to taking care of your LinkedIn page, better great a page there so that you can present yourself that your business exists. To better optimize the LinkedIn page, you have to complete all the required information on that page and plus add an executive summary about your company, contact number & address, outstanding pictures background, logo, and hashtag. To learn more about this, you need to access the world-famous LinkedIn pages such as Facebook, Google, and Microsoft so that you can see the visual of those pages are you can replicate it easily.
Content marketing: Google, Facebook, LinkedIn and other social media platform love fresh and meaningful content. Posting educational, fun and meaningful content in LinkedIn is a way in which you can educate and inform people about yourself/your company. Doing this regularly, LinkedIn will reward your content and your page by showing it more often to the professionals or your prospects without having to pay for advertising. This way you can save money for your other marketing campaign.
Inbox Message: Only premium account users can use the Inbox messages features if you are not already connecting with them. Some professionals subscribe to use the premium LinkedIn account to use the Inbox Message feature and unlimited job search. If LinkedIn is not your marketing touchpoint you don't have to waste money on that but if you do, let pay LinkedIn for the premium account. With a free LinkedIn account, you can send an inbox message to people you are already connected to. One a week, you can send them to wish, educational content to them this way you make them feel that you are a good professional. After you have established that feeling inside them you then can send the promotional contents to them easily, but not to much.
Related: Social Media Contents Translation Services in Cambodia
Landing page (Website) Marketing in Cambodia
A landing page is a popular term of a testimonials page where you can present your products or services on a single page. In online marketing, a Landing page, sometimes referred to as a "lead capture web page", "fixed web page", or a "location web page", is a single website that appears in action to clicking a search engine optimized search results page, advertising promotion, advertising email, or an online advertisement. Here are some benefits of having a website or a landing page for your business:
Landing Pages Directly Support Your Business Goals: Landing web pages profit your company due to the fact that they can be satisfied with the audience or objective of the details you are targeting, as well as enable you to measure success with relation to that goal. Developed around certain activities that can be tailored to fulfill your business objectives, landing web pages can motivate individuals to act such as register for your newsletter, supply call information, sign up for an e-newsletter, buy, or request a consultation.
Landing Pages Increase Conversions: Just as your site consists of information that affects a site visitor's decision to act, a great Landing web page will certainly do the same. A Landing page establishes a clear action for customers to take as well as makes it as easy as possible for them to take that action. This is called your phone call to action. Therefore, you will certainly see more of that action being taken (also known as conversion). Because more conversions commonly lead to more clients as well as more money for your service, landing pages benefit your service.
Landing Pages Generate Data and also Insights: When you connect a landing page to a particular project, item of resource, content, or action, you can see which networks are bringing in the most leads, which subjects, as well as offerings, are of most passion, or which projects are the highest possible executing. In addition, if your Landing web page contains a form, you can make use of the details asked for in the type to read more concerning your site visitors, such as their details difficulties, recommended date as well as time for an examination, or particular details they desire you to recognize.
Landing Pages Improve Paid Search Campaigns: A landing page specifically created for an ad campaign will certainly bring interested people to one website. On this page they will locate information only concerning what they're interested in, increasing the possibility that they will certainly call your business or fill in a type, and end up being a new lead. Given that this is specifically what the person is seeking in their search, and the landing web page additionally facilitates the best objective of the user, they are more likely to click that web link as well as follows up with every one of the actions. If, on the other hand, your ad guides visitors to your website homepage with basic information not geared toward a certain advertising and marketing objective, your site visitors might obtain shed in the details or sidetracked by other links, making them less most likely to call your business and come to be a brand-new lead.
Landing Pages Can Grow Your Email List: Landing pages are frequently used for lead generation, implying that a business gets phone conversation or develop entries from interested individuals who after that turn into possible leads. Thus, a Landing page might link or content to a kind that requests an individual's information, such as name, e-mail address, contact number, or business. If you use a form on your landing web page that requests e-mail, your Landing page can after that profit your service by expanding your e-mail checklist.
Landing Pages Increase Credibility: Considering that landing pages are focused on one particular job, goal, or course for an individual, you can optimize the material and also aspects of the Landing page to assist in that task as high as possible. When a customer feels like their course of action is clear and also you are assisting them to achieve that strategy, they acknowledge that you understand their issues as well as have actually put believed right into creating the best process for solving them.
Landing Pages Improve Brand Awareness: When creating a Landing page, it is essential that the landing web page style, look, feel, and duplicate follows the content that links to it. A landing page with constant branding is an added way to improve brand name awareness in marketing. This will benefit your company by enhancing the uniformity of your branding throughout several forms of media and offering individuals a lot more opportunities to involve as well as acknowledge with your brand.
Related: Top 7 B2B Marketing Trends You Need to Know in 2020
Email Marketing in Cambodia
Email advertising and marketing isn't dead
Equally, as e-mail itself isn't dead, neither is e-mail advertising and marketing. As a matter of fact, e-mail advertising and marketing stay one of the most cost-efficient and also successful means to reach consumers. It's definitely a lot more efficient– as well as effective– than social media marketing.
Related: 79% of Digital Advertisers Use "SEO" Within Their Marketing Strategies
eMarketer reports that 81% of retail professionals say email advertising is a successful way to obtain new consumers, contrasted to 51% who think the same concerning social media. That makes email greater than 40 times a lot more efficient for acquiring brand-new consumers than either Facebook or Twitter.
That's due, partly, to the high variety of people who review the emails in their inbox, contrasted to the low number of people that see your social media activity. You are 6 times most likely to obtain click-throughs from an email campaign than you are from a tweet, and a message is 5 times most likely to be seen in an e-mail than in a Facebook message. According to a record by MarketingSherpa, 72% of those checked like to obtain marketing web content with e-mail, compared to only 17% that like social media sites, such as with their Facebook feed.
When it concerns sales, the DMA records that e-mail advertising drives much more conversions (66%) than any other channel, including social media, on the internet search, and direct mail. The typical order worth from an email sale is greater than 3 times more than that of social media sites too.
All of the professional employees and employers are using email as the medium of their main and official community. If your target customers are professionals, then considering using email marketing is a great way to reach out to your customers to revisit your website or to educate them or sell products or services.
Ad placement: Web Banner Advertising
Long exposure, eye-catching attention, memorial visual, and target ads, local web ad banners considered the most effective way of delivering your messages across digital platforms. If you are a travel agency company, you are likely to target the customers who have a job or own a business as those group of people dare to spend money on traveling for vocations or business; hence direct web ad banners with local websites such as yellow page,  business news or job portal sites may be the right and target platforms where your customers are there.
Related: 6 Secrets to Effective Facebook Ads 2019 | Facebook Ads in 2019: What's Working Now or Not