Why Google Ads is Important for Your Business in Cambodia
You are losing profits on Google Ads without this Activerify! Did you know that on average, 95% of your ad spend on Google Ads is wasted resulting in lower conversions?
The increase of internet usage and mobile phone accessibility, Google Ads, previously known as Google AdWords, becomes the most important tool for businesses. Here're some facts about the internet and mobile users in Cambodia 2018 that might give you some ideas of how and why your business requires a strong online present and visibility while Google Ads can definitely help you out of this if you know how to use it effectively.
"Cambodia now has 12.5 million internet surfers, compared to 10.8 million in 2017. This increase is followed by mobile operators' support expansion in rural areas. Meanwhile, the number of mobile connections rose to 19.16 million from 18.57 million in 2017, a figure that is higher than the country's total population of 16 million, according to an article released in Khmer Times.
As the country's financial growth has boosted the living standards of the people, building new smartphones and new technology, that they use both for voice calls and the internet, less expensive. It is to be projected that web connection is to be covered nationwide by 2020 to 2023."
What does this mean for your business operating in Cambodia?
There will be no doubt. People will spend more time using and surfing the internet for education (tips, how-to, methods, strategies, lessons…), and entertainment contents. Amongst those internet users are your customers, partners, friends, and colleagues who are interested in buying your products or services. If you don't use Google Ads, you will leave them behind your business. If they do not know your products and services, how can you maximize sales in turn for revenue?
Here how Google can actually help you with its Artificial Intelligence Engine – Google Ads via Google Search Engine tool, YouTube, Google network display ads, and Google Map.
YouTube Ads
YouTube acquired by Google on October 9, 2006, for US$1.65 billion from a company. The ultimate reason of buying YouTube because Google thought that YouTube will become a where-to-go video site where everyone uses it while Google wanted to integrate with it Google Ads program (using artificial intelligence to show ads, display ads to network and on videos); therefore, Google decided to buy YouTube. Google decision made right. Now YouTube has almost 5 billion videos are watched on YouTube every single day.
Cambodia people, especially young people are using the internet to access YouTube for different purposes. Most of them access YouTube for entertainment purposes such as watching funny videos & karaoke videos, listening to songs, music and so on while others are using YouTube for educational purposes such as learning how to do this and that and solve their IT technical issues.
When you use Google Ads on YouTube, your ads will show on videos. "These ads can appear before, during, or after the main video. 15 or 20 seconds in length, depending on regional standards. Non-skippable video ads of up to 6seconds that must be watched before your video can be viewed."
This shows that your business really needs to advertise on YouTube through Google Ads in order to attract customers to your offline or online store.
Google Search Ads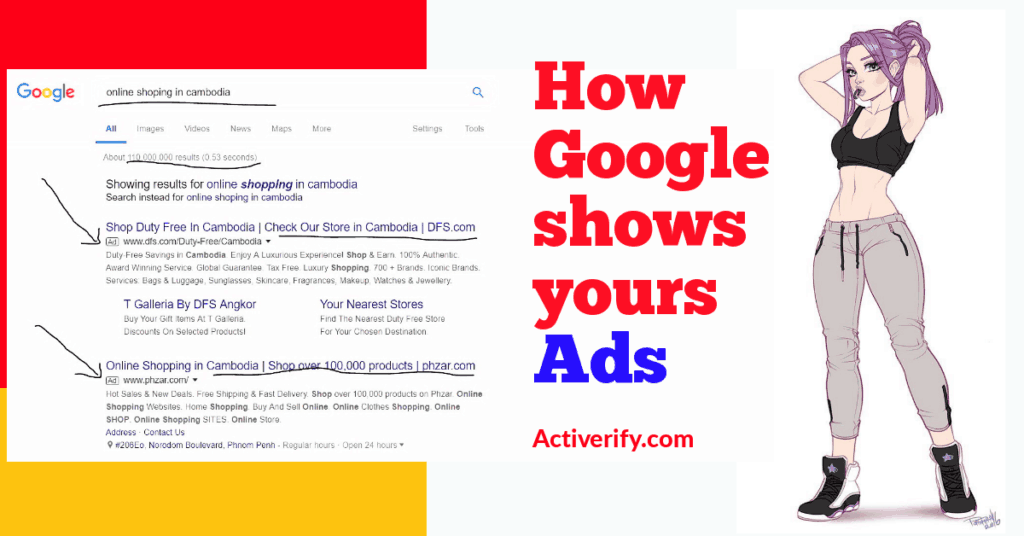 The majority of internet users surf for things through Google Search because Google Search is the giant search engine that allows people to search for relevant millions of content in seconds. That's why it becomes the most popular search engine of all time. Google makes money out of this by showing ads on top of the search results. If you run target ads through Google Ad program, your ads are likely showing on top of the other contents on the internet, because you paid Google to show ads. Your ads will appear on Google Search results based on the amount of budget you pay for Google.
Google Network Display Ads
Many other website owners make millions of dollars to display ads on their websites. Google created a Win-Win program, the so-called "Google AdSense". Google AdSense allows website owners to display ads on publisher websites. To join this program every website owner (known as the publisher) will need to submit their application to Google for review and approval whether their websites are allowed and met the requirements to join the program or not. If those websites are approved to join as the publishers, they then can make money by showing ads right away.  Website owners can add "Google AdSense code" onto their website, Google can then display different ads on their websites automatically.
Therefore, when you use Google Ads to advertise on Google Network, your ads will show on those websites where those websites' users will see your ads, they would then direct to your website or your offline store if they are interested in your products or services.
Google Map & Ads
Google map becomes a popular tool on the planet because it is convenient, easy, and fast to navigate with a mobile-friendly interface. People also can use Google Assistant with voice search instantly right from their Android smartphone. Most internet users use it to search for locations, venues…. When people do the search for locations, Google will also display ads somewhere in research results. Therefore, if you pay for Google Ads, your ads are likely to be seen by those who search for locations, venues online.
Whether you want to sell more products from your online store or gain more leads for your business, Activerify will help you create your online adverts and provide you with automated suggestions to help you reduce your spend and improve your results.
We built Activerify from the ground up with businesses like yours at the front of our minds. In order to achieve a platform that's easy to use and open to every small and medium business, we set out a number of pledges to guide us as we built Activerify and drive it forward into the future.
Activerify has teams of experts in Search English Optimization (SEO), Keywords Searches, and Google Ads or Google AdWords for years, we definitely can use our expertise to help our clients, like you to get more customers with less adspend. Here're what we can do for you, including other benefits:
We're a Google Top Partner who can help grow your business quickly using our agency-style service (but without the usual high price tags!)
We have a team of exceptional people, who are passionate about online marketing and helping people like you to attract more customers via online advertising
We pride ourselves on being able to deliver you the tools you need to succeed – no matter how large or small your business
Our purpose-built technology helps to automate time-consuming jobs, quickly analyze data and allows you to take advantage of opportunities at the click of a button
We may work with some huge, instantly-recognizable brands but we actually specialize in helping small to medium-sized businesses succeed online
Multiple Google Ads account
Improve Quality Score
Reduced Wasted Adspend
One-click changes
What are you waiting for? Contact us now: Contact Us