Introducing the Consumer Report Cambodia 2023 – A Glimpse Into Cambodian Consumer Behavior
A comprehensive annual report, the Consumer Report Cambodia 2023, has provided valuable insights into the consumer habits of Cambodians, covering a diverse range of industries and topics. Conducted in collaboration with Confluences and Standard Insights, the report gathered the opinions of over 1,000 respondents, shedding light on their preferences, behaviors, and perspectives.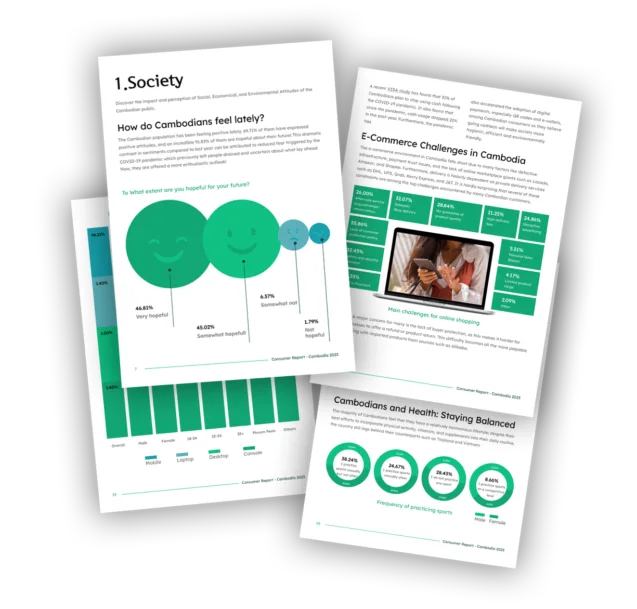 Society
Overall, Cambodians expressed a positive outlook, with a significant 69.71% showing uplifting attitudes. A notable 91.83% felt hopeful about their future, a stark contrast to the previous year's report, where only 39.6% described positive sentiments. The decline in fear caused by the Covid-19 pandemic played a significant role in this change, instilling a sense of optimism among the population.
While almost half of the respondents showed confidence in the government's economic policies, concerns about the rising cost of living and inflation affected 71.35% of the respondents, leading to worries about financial insecurity and declining purchasing power in 2023. The environment also emerged as a pressing issue, with about 40% of respondents adopting eco-friendly practices, particularly in reducing food waste.
eCommerce
Online shopping has gained popularity in Cambodia, following regional trends. More than a quarter of respondents reported engaging in online shopping multiple times a month. Interestingly, social media has outpaced eCommerce websites in the country, with businesses leveraging social media platforms to promote their services.
The pandemic accelerated the adoption of digital payments, with 32% of Cambodians planning to reduce cash usage post-pandemic. Challenges in the eCommerce sector include issues with infrastructure, payment trust, and the absence of dominant online marketplace giants.
Travel and Tourism
National pride remains strong, with 35.13% expressing a keen interest in exploring their own country. For those seeking international travel, Japan, Thailand, Singapore, and China emerged as top destinations due to their proximity, ease of entry, business opportunities, and discounted airfares by national carriers. However, the pandemic still affects travel decisions, with 65.54% expressing concerns about health and safety risks, along with other barriers like cost and navigating international regulations.
Health and Wellness
Around half of the population does not undergo annual medical check-ups, possibly due to a lack of trust in medical institutions. Digitalization is on the rise in the health sector, driven by the pandemic, with nearly 40% having tried online consultations. However, the drug market remains traditional, with 96.21% continuing to purchase medicine from physical locations.
Outdoor sports have gained popularity, with 71.57% of people engaging in activities like running, cycling, and Tai Chi. Men are more likely to be active than women, leading to varied purchasing patterns. Men tend to buy sports-related items like health supplements and gym equipment, while women invest in personal care products such as vitamins and beauty treatments.
Beauty and Care
Cambodians display a strong awareness of beauty and wellbeing, evident from their frequent purchases of facial washes, sunscreen, and antiperspirants. However, online buyers express concerns about trusting sellers, with almost 40% stating they do not fully trust online sellers due to authenticity and security worries.
eSports
Cambodia's gaming culture is on the rise, with a growing community of gamers despite half of the respondents not playing video games. Mobile devices are the preferred gaming medium, embraced by 96.21% of respondents. Telecom companies offer attractive deals, catering to this trend, and the future of gaming in Cambodia appears promising, with increased interest from new gamers.
Mobile Networks
Cambodians are more connected than ever, with cellular phone connections surpassing 131.5% of the population in January 2023. Network quality, coverage, and price are critical factors when choosing a mobile subscription plan, and many are willing to pay more for reliable services. Smart, Mefone, and Cellcard are the leading mobile network providers.
Automotive
Motorbikes and tuk-tuks dominate transportation, with cars being relatively less popular due to higher costs. Nevertheless, the number of vehicles on the roads has steadily increased, largely attributed to international brands offering more affordable options. Electric vehicles are gaining momentum, with 94.41% of respondents believing they are the future of the automobile industry.
Retail Banking
The digitization of the banking sector is evident, with a growing trend in digital payments and online banking. While deposits and transfers are the most used transactions, many still prefer to open accounts offline. Security, ease of setup, and proximity to ATMs and branches are key factors considered when selecting a mobile subscription plan.
Food and Beverages
Eating out remains popular, with convenience, socializing, and celebrations being common reasons. Energy drinks and soda are popular choices, with their appeal linked to taste preferences and the need for refreshment.
The Consumer Report Cambodia 2023 provides valuable insights into Cambodian consumer behavior, allowing businesses and industries to better understand and cater to the preferences of the population.
Read full report here: https://standard-insights.com/consumer-report-cambodia-2023