Professional Content Writer Service in Phnom Penh, Cambodia
Activerify's professional writing services include copywriting, content creation, content editing and proofreading. Their team of experienced writers understand how to effectively create content that resonates with users while staying on-brand and on message. They offer an array of topics to write about including blog posts, articles, press releases and white papers. All pieces are crafted in a way that is well researched and 100% original. The team can help optimize existing website content as well as develop new SEO-friendly text for new pages or products. Furthermore, they provide keyword research services to identify the best terms for clients' sites according to their industry and target audience. With Activerify's specialized SEO writer expertise, businesses can maximize their organic reach online.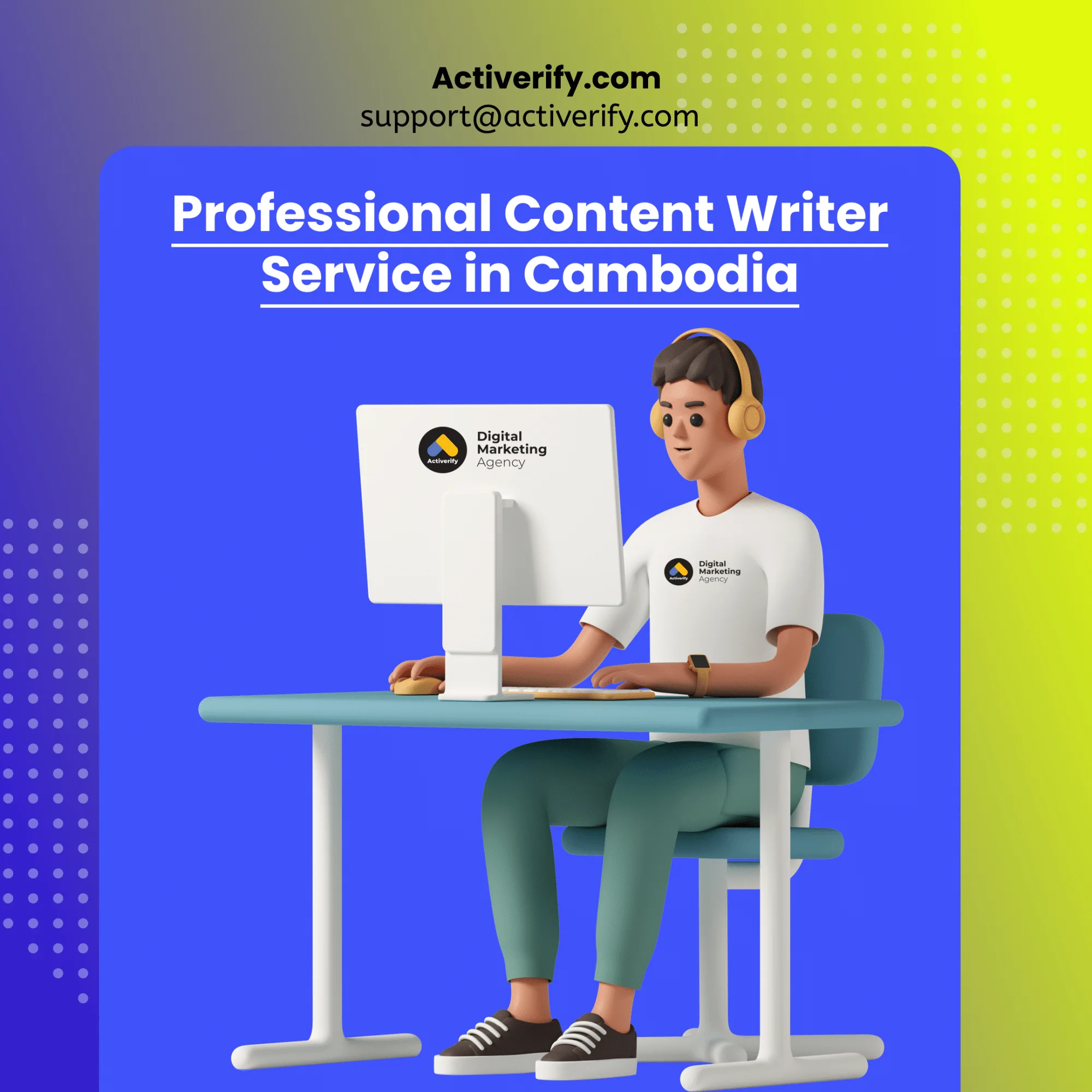 Activerify, a Trusted Digital Marketing Agency, based in the capital of Phnom Penh, Cambodia offers top 10 exclusive professional content writing services as below:
1. Blog Content Writing Service
Writing a blog for your website can be hugely beneficial in several ways. Firstly, it is an effective way to show potential customers and clients that you are knowledgeable in your industry and that you have expertise to share. Having regularly updated blog content will also help to keep people on your website longer as they read through interesting articles, increasing the chances of them making a purchase or investing in services. Additionally, blogging is an excellent SEO tool as it helps to improve search engine rankings by providing fresh, relevant content which drives more traffic to your site. This increased visibility can lead to more leads, greater brand awareness and improved engagement with customers. Lastly, if done correctly a blog can help establish trust with readers by demonstrating that you understand their needs and interests – this increases the likelihood of return visits or even conversions from those visitors.
At Activerify, we understand that writing a blog for your business website can be stressful and time-consuming. We specialize in creating content tailored to the needs of our customers and their businesses. Our team of experienced writers will help you create professional posts that showcase your brand and engage with your audience.
Our process begins by getting to know you, your company, and what makes it unique. This allows us to write meaningful content that is both informative and entertaining for your readers. We also use relevant keywords throughout post copy to ensure increased search engine visibility as well as link building opportunities on major sites such as Google, Bing, Yahoo etc.
Once the blog post has been written it will be passed through our strict editing process which ensures clear communication, correct grammar usage and consistency with the blog's tone of voice. After editing is complete we will send over the blog post for approval or further revisions if needed before publishing it on your website or other channels like social media sites etc.
2. SEO Content Marketing Service
SEO content is any type of content that has been written with the goal of driving organic traffic from search engines.
Activerify provides SEO content marketing writing services to help businesses reach their maximum digital marketing capabilities. Our team of experienced writers are adept in crafting SEO-friendly articles that contain relevant keywords and phrases to ensure high search engine rankings. We develop engaging, informative content that is tailored to the target audience and designed to increase the visibility of the client's website. Additionally, we provide detailed analytics and insights into how our services have impacted a client's success. Through this data, clients can track their progress over time while using Activerify's services.
Our approach to SEO content marketing is comprehensive and results driven. We understand how important it is for any business interested in expanding its online presence to identify key words and phrases that will optimize search engine rankings. Our team works closely with each individual client to determine their needs and create a strategy for success that utilizes proven tactics for increasing visibility on the web. With Activerify, businesses can be sure they're getting quality work from experienced professionals who understand what it takes to succeed in today's competitive digital landscape.
3. Seasonal Promotional Content Writing Service
Seasonal promotional activities are a great way to drive sales and generate leads. At Activerify, we understand this and extend our services to businesses seeking to take advantage of marketing opportunities during certain times of the year. We customize seasonal promotional content that is tailored to the specific needs of each business. Our team of experienced writers will create compelling copy that reflects your brand's message while simultaneously highlighting special offers, discounts or other promotions associated with the season. Additionally, we'll use data-driven insights to craft content that resonates with customers and encourages them to act now in order to benefit from time-sensitive offers. As part of our service, we also provide detailed analytics so you can track how successful your seasonal promotional campaigns were over time. With Activerify's help, you'll be able to make sure your seasonal promotions get noticed and generate maximum impact for your business.
4. Email Marketing Campaign Content Writing Service
Email marketing campaign content should always be tailored to the target audience. The content must be relevant and engaging, since it is designed to capture the attention of potential customers or clients. It's also important for marketers to aim for a clear call-to-action in the message; this could involve encouraging people to visit a website, sign up for an event, or make a purchase.
Email marketing is a powerful tool for digital marketing outreach. With Activerify, it has become even easier to leverage email campaigns to successfully reach target audiences with compelling and persuasive content. Our experienced team of writers can create high-quality emails tailored to fit your brand's unique needs. We understand that creating an effective email campaign requires careful consideration of the time and resources available, the objectives of the message, and the audience being targeted. That's why
we strive to craft engaging messages that align with our clients' goals while staying true to their brand identity. We also provide comprehensive metrics after each campaign so you know what's working and what isn't. Whether you are looking for a one-time message or want ongoing support for your email campaigns, our experts will ensure you get results every time!
5. Product Description Writing Service
Product description content helps customers make an informed decision about a product. It should provide all the necessary information to help them understand what the product is, how it works and its benefits. An effective product description should include clear details on features, specifications, dimensions, materials used and other technical information that might be important for buyers. It should also highlight the unique aspects of the product or any special offers or discounts associated with it. Additionally, good descriptions will explain why customers would want this item and why they should buy it now rather than wait for something else. This type of descriptive language will help customers feel confident in their purchase decisions. Lastly, adding images to accompany the written description can further enhance customer understanding of a product's features and benefits while enticing them to buy it.
At Activerify, our team of experienced digital marketing experts provides comprehensive product description writing services. Our team understands the importance of an effective product description and its impact on increasing sales. We have years of experience in content marketing and understand how to create engaging and persuasive descriptions that will capture the attention of potential customers.
Our product description writing service includes creating an accurate and detailed overview that clearly communicates the unique features, benefits, and advantages associated with the products or services being offered. Additionally, we can include keywords and phrases to help increase visibility in search engine rankings. We also ensure that all descriptions are written in a tone that resonates with audiences while remaining true to your brand's style guidelines.
No matter what type of products or services you're offering, our team at Activerify is here to provide customized solutions for your needs through our professional product description writing service. Contact us today for more information!
6. Website and Landing Page Description Content Writing and Translation Service
The purpose of a landing page is to capture the attention of visitors to your website and encourage them to take an action. It should be concise, easy-to-read, and include relevant visuals. Writing compelling content for a landing page can be a challenge; however, it's essential for engaging potential customers.
Landing page description content writing
Activerify's Landing page description writing service helps business owners craft unique and engaging descriptions for their landing pages. Our professional writers use targeted language to effectively communicate the key features of the product or service, as well as its advantages over competing offerings. In addition, our team ensures that each description is crafted in a way that will be both SEO-friendly and optimized for conversion rate optimization (CRO). We also work with clients to ensure the content accurately reflects their brand values and messaging.
Our Landing page description writing services are designed to help businesses make an impact on potential customers right away. As part of our service, we analyze customer behavior data, website analytics, and industry trends in order to tailor each description perfectly to the target audience. This approach allows us to create descriptions that are informative, persuasive, and tailored specifically towards converting first-time visitors into paying customers.
Activerify's Landing page description writing services provide clients with effective copywriting solutions which can help them quickly establish trust with potential customers while driving conversions on their site. We understand how important it is for businesses to have content that accurately reflects their brand values—that's why we guarantee high-quality results with every single project we take on.
Website and Landing page description content translation service
Activerify's Website and Landing Page Translation Services allows businesses to translate content from English to Khmer and Khmer to English. With the help of experienced translators, this service ensures that webpages and landing page descriptions are accurately translated while preserving the original intent. All translations are done by native speakers who understand both languages and have a keen eye for detail. They take into account regional nuances as well as cultural differences in order to provide an accurate translation that captures the essence of the original text. The service also provides editing and proofreading services so that all content is correctly formatted and free of errors before being published online or in print media. Additionally, they provide advice on SEO and keywords optimization so that businesses can reach their target audience more effectively. By taking advantage of
Activerify's Landing Page Translation Services, businesses can ensure that their website content has been accurately translated so it appeals to local customers in both Khmer and English language markets.
7. Product/Service Review Writing Service
Product service reviews provide valuable feedback for businesses and customers alike. They allow customers to share their experiences, while businesses can use the data to assess and improve customer experience. Short content reviews are a great way to get a quick overview of customer sentiment without requiring too much effort or time.
Activerify's product service review short content service provides businesses with efficient, concise reviews of their products and services. The service helps businesses to quickly identify areas of improvement in order to better serve their customers and increase customer satisfaction. Additionally, it can be used to highlight positive features and benefits that customers may not have known about prior. The review process consists of both a qualitative assessment, involving customer interviews and surveys, as well as quantitative analysis that measures customer sentiment towards the product or service. This enables companies to gain valuable insights into how customers perceive their products or services, which can help inform further marketing initiatives or product development. Furthermore, Activerify provides reports detailing these findings so that businesses can make data-driven decisions on how best to enhance their offerings. Ultimately, utilizing this short content service will result in improved customer experiences and increased sales for the business.
8. Social Media post – short content (title, caption, description, call to action)
Activerify can help you create short content to promote your products and services on social media. We offer a range of features that make it easy to craft messages that resonate with your target audience. Our content creation tools allow you to quickly create engaging posts with images, videos, GIFs, and more. You can also add hashtags to maximize organic reach and exposure for your brand. Activerify also provides analytics so you can track the performance of each post and measure its effectiveness in driving engagement and conversions. With our insights, you'll be able to identify what types of content resonates best with your followers. That way, you'll know exactly how to optimize future posts for maximum impact. Let us help you take your social media marketing strategy up a notch – try Activerify today!
9. Social Media Post Translation Service (English to Khmer – Khmer to English)
Activerify provides a high quality, reliable and fast translation service for social media posts between English and Khmer. Our translation team is composed of native speaker translators who have an excellent understanding of the language, culture and nuances required to accurately translate social media content. We ensure that translations are accurate and professional while also capturing the tone and sentiment of the original post. To ensure accuracy, all translations are reviewed by a second translator before they are delivered to our clients. This double-check approach helps us guarantee that all translated posts accurately reflect your brand's message. Additionally, we provide on-going support throughout the process so you can rest assured that you will receive top quality results in a timely manner.
10. Online Advertising Copies Writing Service
Activerify offers a comprehensive suite of online advertising copywriting services that help businesses craft effective messages for their target audiences. These services include Google Advertising, YouTube Advertising, Facebook Adveritising, and Linkedin Advert. All these platforms provide businesses with the opportunity to reach potential customers in a cost-effective way. Through each of these services, Activerify helps businesses create engaging content that drives conversions and increases brand visibility.
Google Ads is an incredibly powerful platform for any business looking to expand its reach on the web. Activerify's expertise in writing effective copy for Google Ads campaigns ensures that each ad gets maximum visibility and drives leads to your website or product page. With our copywriting services, you can rest assured that your ads will be seen by the right people at the right time while also achieving optimal ROI from your campaigns.
Activerify also specializes in crafting creative and effective YouTube Ads that are tailored to the needs of your business. Our team of experienced professionals understands the importance of delivering compelling video content that resonates with viewers – ensuring maximum engagement from your ads as well as increased brand awareness over time. Additionally, we can help you craft optimized Facebook Ads as well as Linkedin Ads so you can tap into specialized markets and drive even more qualified leads to your site or product pages.
What are you looking for?
As Content Marketing Writing Experts, we understand the importance of crafting compelling content to engage with your target audience. Our team of professional writers can help you create unique, creative content that resonates with your customers and helps them make informed decisions. We specialize in creating content for websites, blogs, social media posts, press releases, and more.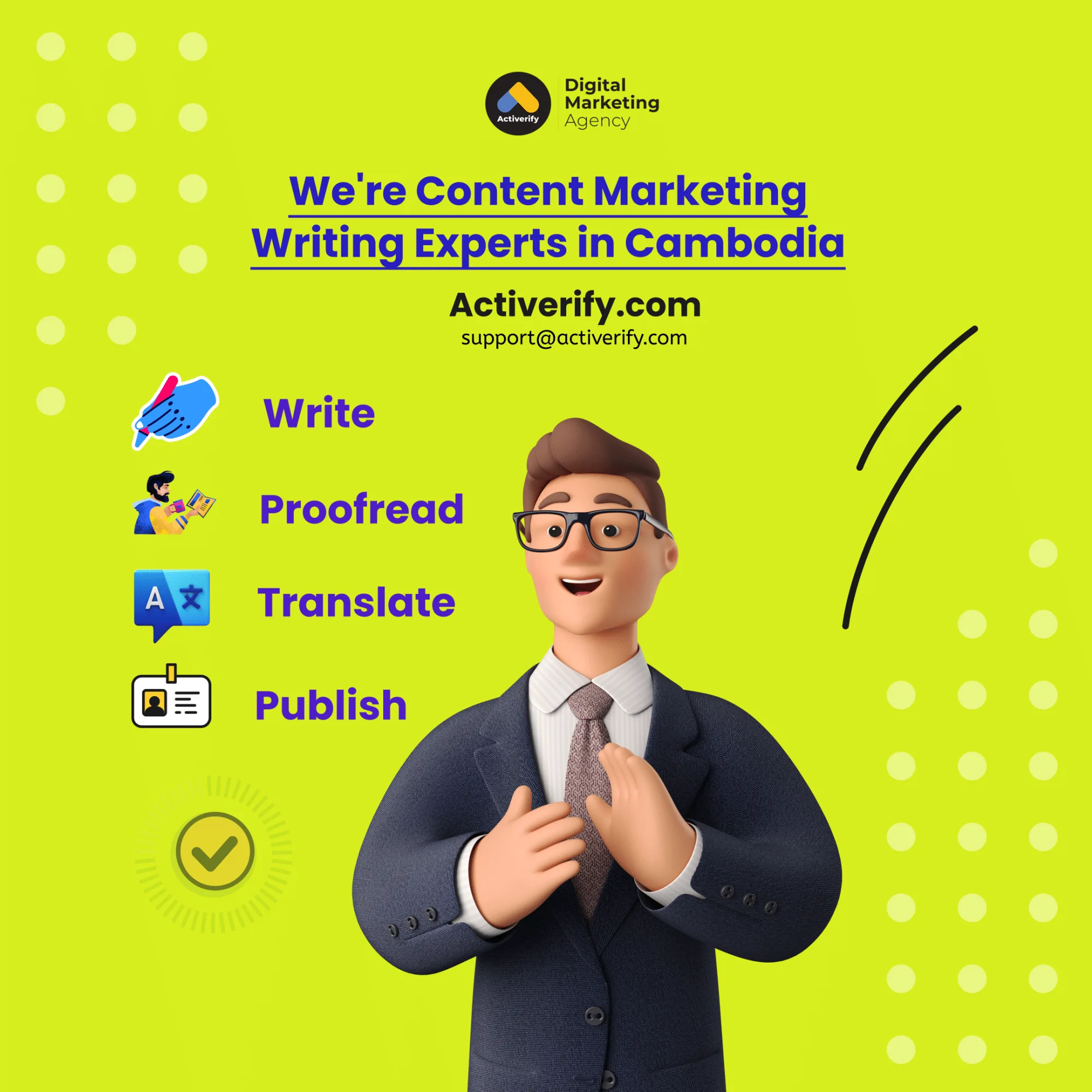 Our writers are experienced in a wide variety of industries and have an understanding of how to craft effective messages that reach the right audience. We also provide proofreading and editing services to ensure your final product is error-free and meets industry standards. With our writing experts on board, you can rest assured knowing your content will be well written and engaging for readers. Contact us today for a free consultation about how we can help you make the most out of your content marketing efforts.
Talk to our professional content marketing writing experts today for content marketing writing enquiry:
Phone Number/Telegram/WhatApps: +855 (0)16 600 321 (English & Khmer)
Email: support@activerify.com or send us an email through contact form: https://activerify.com/contact-us